"Emotional subtleness and a great temperament." - Vera Gornostaeva

"His playing is totally void of any shallow effects, it is noble and sincere." - Naum Grubert

"He is one of those professionals whose playing is possessed such incredible natural talent, great sound and amazing sense of form." - Vadym Kholodenko

"It is based on the innovative approaches of his fascinating piano technique that Pedro Emanuel Pereira has already established himself as a supreme composer." - António Victorino D'Almeida

Considered one of the most prominent Portuguese pianists and composers of his generation, Pedro Emanuel Pereira appears with his own art and worldview, shaped by the successful journey that has accompanied his career in classical music.
From his approach to an orchestral instrument that he venerates, it is through the keys of the piano that he embodies Portuguese experiences, stories and musical culture, that one hears from the brilliant poetry and the different styles he explores.

Graduated with an honorable distinction from the Moscow Conservatory and the Amsterdam Conservatory, Pedro Emanuel Pereira has been the winner of numerous international piano competitions, including the First Prize at the 19th edition of the Santa Cecilia International Competition in Oporto.

After the success of his first album "Russian Journey", dedicated to works by Russian composers Sergei Rachmaninov and Sergei Prokofiev, the pianist presents for the first time his most intimate and hidden side, in an album dedicated exclusively to original works of his authorship.
In the album "Sounds of My Homeland", Pedro Emanuel Pereira explores the relationship between improvisation and composition with a singular mastery, in a new approach that incorporates reminiscences of traditional Portuguese music combined with erudite tradition and classical music. In this fashion, "Sounds of My Homeland" reveals a different way of composing and improvising, with other influences and different paths.

As a composer, Pedro Emanuel Pereira had written several pieces for piano solo, chamber music, voice, chamber orchestra and symphony orchestra.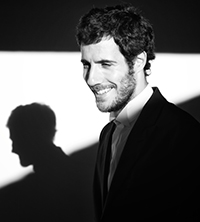 Rua Guerra Junqueiro, 455
4150-389 Porto
Portugal
T. (+351) 22 600 21 50