A native of Israel, President of Piano Cleveland Yaron Kohlberg has played in major halls in more than forty countries spanning five continents and has won more than ten international prizes, including the second prize at the 2007 Cleveland International Piano Competition.
Major performances as soloist include the Carnegie Hall in NYC, the Kremlin in Moscow, UN Hall in Geneva, Forbidden City in Beijing, Residenz in Munich and the Israeli Parliament ('Knesset').
In recent years Mr. Kohlberg, who speaks six languages including Mandarin Chinese, has teamed up with his friend Bishara Haroni to form the highly successful Duo Amal piano duo.
He holds a graduate degree (with distinction) from the Buchmann-Mehta school of music of Tel Aviv University.
In concert, he often combines classical music with new arrangements of popular and world music.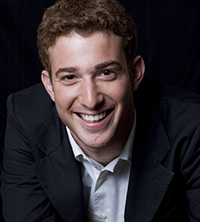 Rua Guerra Junqueiro, 455
4150-389 Porto
Portugal
T. (+351) 22 600 21 50